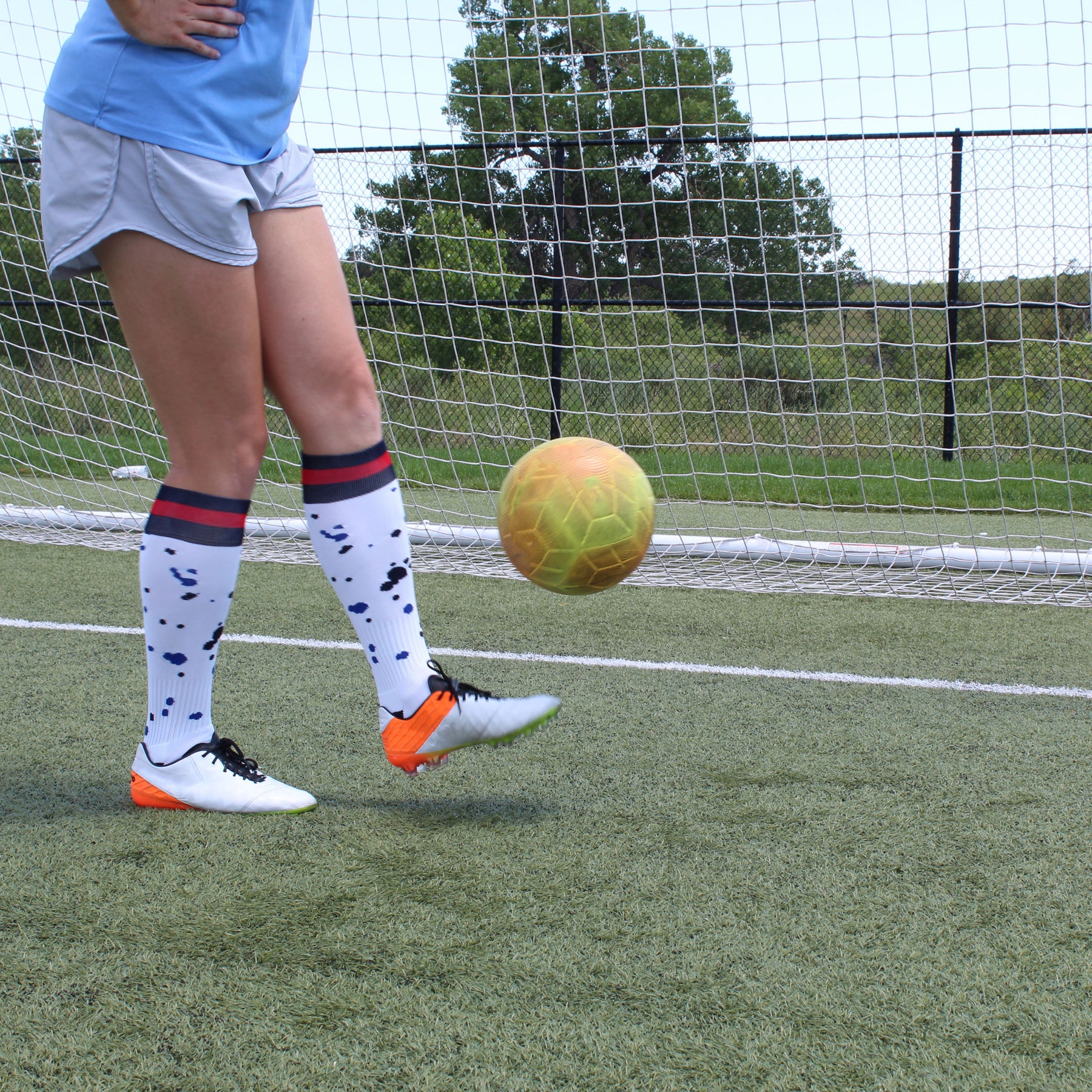 USWNT World Cup Player Profiles – 6 Athletes of the USA Women's Team that Inspire Girls
Kickoff
Ever since its establishment, the United States Women's National Soccer Team (USWNT) has been a force to be reckoned with. From their maiden World Cup victory in 1991 to their dominant performances in recent years, the USWNT has consistently challenged, and often reshaped, the landscape of women's soccer on a global scale.
The USWNT's presence on the field is more than just about impressive technical skills or tactical mastery. It's about redefining the narrative of women in sports, inspiring countless girls worldwide to lace up their boots, step onto the pitch, and dream.
Now, as the team gears up for the next World Cup with their sights firmly set on an unprecedented threepeat, we're reminded of the individual stories that make this collective dream possible. Each member of the USWNT brings a unique journey of passion, resilience, and hard work – journeys that every young girl can look to for inspiration.
In this article, we profile some of the team's standout players, their stories, and how they mirror the very ethos of our USWNT-inspired soccer socks. For every girl who dreams of one day taking the field at a World Cup, these player profiles – and our soccer socks – are for you.
Alex Morgan - The Tenacious Trailblazer
It's hard to imagine the world of women's soccer without the electrifying presence of Alex Morgan. A woman of many firsts, Morgan has set the soccer field ablaze with her quick footwork, lethal finishing, and never-say-die attitude. Yet, her journey to becoming one of the most recognizable faces in women's soccer is as inspiring as her on-field performances.
Nicknamed "Baby Horse" by her teammates for her long strides, speed, and youth, Morgan's career began with a gallop. At just 22, she became the youngest member of the USWNT at the 2011 World Cup. But it was in the final against Japan where her tenacity really shone, as she scored a critical goal and provided an assist. While the USWNT fell short in that match, it was clear that a star had been born.
However, it hasn't all been smooth sailing. Early in her career, an anterior cruciate ligament (ACL) injury threatened to sidetrack her soccer dreams. But true to her spirited nature, Morgan saw it as a hurdle, not a stop sign. She tackled her rehabilitation head-on, returned to the field stronger than ever, and has since been inspiring young girls with a powerful message: setbacks are just comebacks in disguise.
Off the field, Morgan is just as much of a trailblazer. A fervent advocate for pay equity in soccer, she's used her platform to bring about change, teaching young girls that fighting for what you believe in is as important as any goal scored on the field. Plus, with her series of children's books, "The Kicks," she's also encouraging girls to read, dream, and kick a soccer ball!
Whether she's speeding past defenders, standing up for her fellow players, or penning inspiring stories, Morgan brings a unique blend of talent, grace, and courage to everything she does. So, the next time your child laces up their USWNT-inspired soccer socks and steps onto the field, remind them of Alex Morgan's journey. Tell them that, like Morgan, they can overcome obstacles, fight for what they believe in, and most importantly, score their own goals, both on and off the field.
Sophia Smith - The Record-Breaking Prodigy
Every so often, a player comes along who causes us to rethink what is possible. Sophia Smith, with her precocious talent and indomitable spirit, is one such player. As the youngest player ever drafted into the National Women's Soccer League (NWSL), Smith's journey serves as an inspirational tale for young soccer enthusiasts everywhere.
Smith's love for the sport sparked at a young age, and she quickly distinguished herself as a force on the field. Her lightning speed, intelligent movement, and sharpshooter precision helped her make waves in the youth leagues, but it was her undeniable work ethic that set her apart.
Despite her youth, Smith hasn't shied away from stepping into the spotlight. When she was drafted by the Portland Thorns at just 19, she became the first teenager ever selected in an NWSL draft. A few months later, she scored her first professional goal, proving that she not only belonged on the big stage but was ready to shine.
Her impressive performances earned her a call-up to the U.S. Women's National Team, where she became one of the youngest players to earn a cap. And if her past performances are any indicator, this is just the beginning of a long and successful career.
Yet, for all her success, Smith remains grounded. She understands the importance of hard work, dedication, and staying humble – values that she hopes to pass on to the next generation of female athletes.
So, share Sophia Smith's story of breaking barriers, of believing in oneself, and of the power of dreams. After all, just like Sophia, they're never too young to start making their mark.
Trinity Rodman – A Star Forging Her Own Path
Being the daughter of a famous athlete comes with its own set of expectations. Yet, for Trinity Rodman, the promising young forward for the Washington Spirit and the USWNT, it has always been about making her own name in the world of soccer. Far from living in her father's shadow, Trinity is carving out her own legacy, one goal at a time.
Trinity's journey to professional soccer is filled with purpose and passion. She was a standout player at Washington State University, though she never played a game there due to the COVID-19 pandemic. Not one to be deterred by circumstances, Trinity took the bold step of entering the NWSL Draft, becoming the youngest player ever selected when the Washington Spirit claimed her as the No. 2 overall pick.
In her professional debut, she showed the world just what she was capable of by scoring her first professional goal only minutes after stepping onto the pitch. Since then, she has continued to impress fans and critics alike with her speed, agility, and scoring ability.
Off the pitch, Trinity is equally impressive. Her dedication to her team and her game is matched only by her commitment to using her platform to promote positive change. She has voiced her support for social justice issues and aims to inspire the next generation of young girls to break boundaries and live their dreams, just as she is doing.
Trinity Rodman's story beautifully illustrates that we are not defined by others' expectations but by the light we create ourselves. Trinity's path serves as a powerful reminder for all budding athletes that they can break through boundaries, be audacious, and above all, remain true to who they are.
Naomi Girma – From Youth Leagues to National Dreams
In the world of women's soccer, Naomi Girma is a name that strikes a chord of hope and inspiration. Born to Ethiopian immigrants, she is a reminder that the American Dream is alive and kicking, quite literally, on the soccer field.
Growing up in San Jose, California, Naomi's soccer journey began like countless others: with a ball at her feet and a dream in her heart. Her talent was apparent from the get-go. Her defensive skills, tactical understanding, and leadership qualities made her a force to reckon with on the field.
These abilities took her to Stanford University, one of the top collegiate soccer programs in the country, where she further honed her skills. Her outstanding performances helped Stanford win the NCAA Championship in 2019, cementing her place as one of the top young talents in the nation.
But it wasn't just college soccer where Naomi shone. She captained the U.S. U-20 Women's National Team in the U-20 Women's World Cup, leading her team with the same unwavering determination and poise that has become her trademark.
Naomi's story is more than just her accomplishments on the soccer field; it's about the journey of a young girl with a dream, overcoming odds, and reaching for the stars. It's about the power of hard work, resilience, and the belief that no dream is too big.
Naomi's story shows that with tenacity and a never-give-up attitude, you can always strive to reach your goals, no matter where you're from or what your dream is.
Crystal Dunn – A Story of Versatility and Determination
Crystal Dunn's soccer career is a testament to versatility, determination, and the sheer joy of playing the beautiful game. A world-class player who can excel in virtually any position on the pitch, Dunn is a powerful reminder that flexibility is as much a part of soccer as any goal or save.
Hailing from New York, Crystal's love for soccer was evident from a young age. She grew into a dynamic player, showcasing her skills at the University of North Carolina and leading the Tar Heels to a national championship in her freshman year. This was just the start of her remarkable journey.
Dunn's professional career began with the Washington Spirit, where her explosive speed, technical skill, and versatility quickly caught the attention of fans and critics alike. She won the NWSL MVP and Golden Boot awards in 2015, scoring 15 goals in 20 games - a remarkable feat for a player who has often been deployed as a defender!
Crystal's talents eventually led her to the international stage, where she has been a cornerstone of the USWNT. Her ability to adapt to any position – from forward to fullback – has been instrumental in the team's success. Her name is now synonymous with resilience, a trait she demonstrated when she bounced back from not making the 2015 World Cup team to becoming one of the stars of the 2019 World Cup-winning squad.
Off the field, Crystal is an advocate for equality and diversity in the sport, using her platform to inspire and make a difference. She's not just a role model for aspiring soccer players, but for anyone aiming to turn their dreams into reality.
So, when your child dons their USWNT-inspired soccer socks, share Crystal Dunn's story. It's a tale of tenacity, adaptability, and joy, reminding us all that with determination, we can master any role, overcome any obstacle, and reach our goals - on and off the field.
Rose Lavelle – The Dancing Dribbler with a Heart of Gold
Rose Lavelle, with her infectious smile and balletic brilliance on the soccer field, has become one of the most beloved members of the US Women's National Team. Her playmaking abilities, coupled with her down-to-earth charm, make her an inspiration to young soccer enthusiasts around the world.
Growing up in Cincinnati, Rose was soccer-obsessed from the start. She honed her skills in the backyard with her brothers and sisters, never shy to take on a challenge. This fearless spirit would eventually take her to the University of Wisconsin, where she became a standout player.
Rose's professional career blossomed with the Boston Breakers, and later with the Washington Spirit and Manchester City. But it was on the international stage where she truly caught the world's attention. Her dazzling dribbling, precise passing, and knack for scoring gave the USWNT an extra spark.
Rose's moment of glory came in the 2019 World Cup when she scored the clinching goal in the final against the Netherlands. As she celebrated, the world celebrated with her, a young woman living her dream on the biggest stage.
Yet, for all her success, Rose has remained wonderfully grounded. She's known for her love of dogs (especially her English Bulldog, Wilma Jean Wrinkles), her quirky humor, and her genuine kindness. Her ability to connect with fans, particularly young girls, off the field is as impactful as her performances on it.
Rose's journey teaches us that you can reach the top and still stay true to who you are. She's not just a world-class soccer player; she's a role model for all of us, reminding us to pursue our dreams with a smile on our faces and kindness in our hearts.
Final Thoughts
These remarkable athletes make up just a handful of the many talented and dedicated women who wear the USWNT jersey with pride. They embody the spirit of our USWNT-inspired soccer socks - not only in their technical prowess on the pitch but in their resilience, hard work, and dedication. Each of them carries a unique story of breaking boundaries, overcoming setbacks, and believing in the power of dreams.
Whether you're a young girl just starting on your soccer journey, an aspiring professional, or a parent encouraging their child to follow their passion, there's inspiration to be found in these stories. They remind us that soccer is more than just a game; it's a vehicle for personal growth, self-expression, and positive change.
As the USWNT gears up for the next World Cup, let's remember to cheer not only for the team but also for each player's unique journey. And as you pull on those USWNT-inspired soccer socks, remember that you're not just wearing a piece of sports apparel - you're carrying a piece of these athletes' inspiring stories with you.
So, lace up your cleats, step onto the pitch, and chase your dreams - the same way Alex Morgan, Sophia Smith, Trinity Rodman, Naomi Girma, Crystal Dunn, and Rose Lavelle have. After all, every legend starts with a dream and a willingness to work for it. The pitch is yours; now make your story.