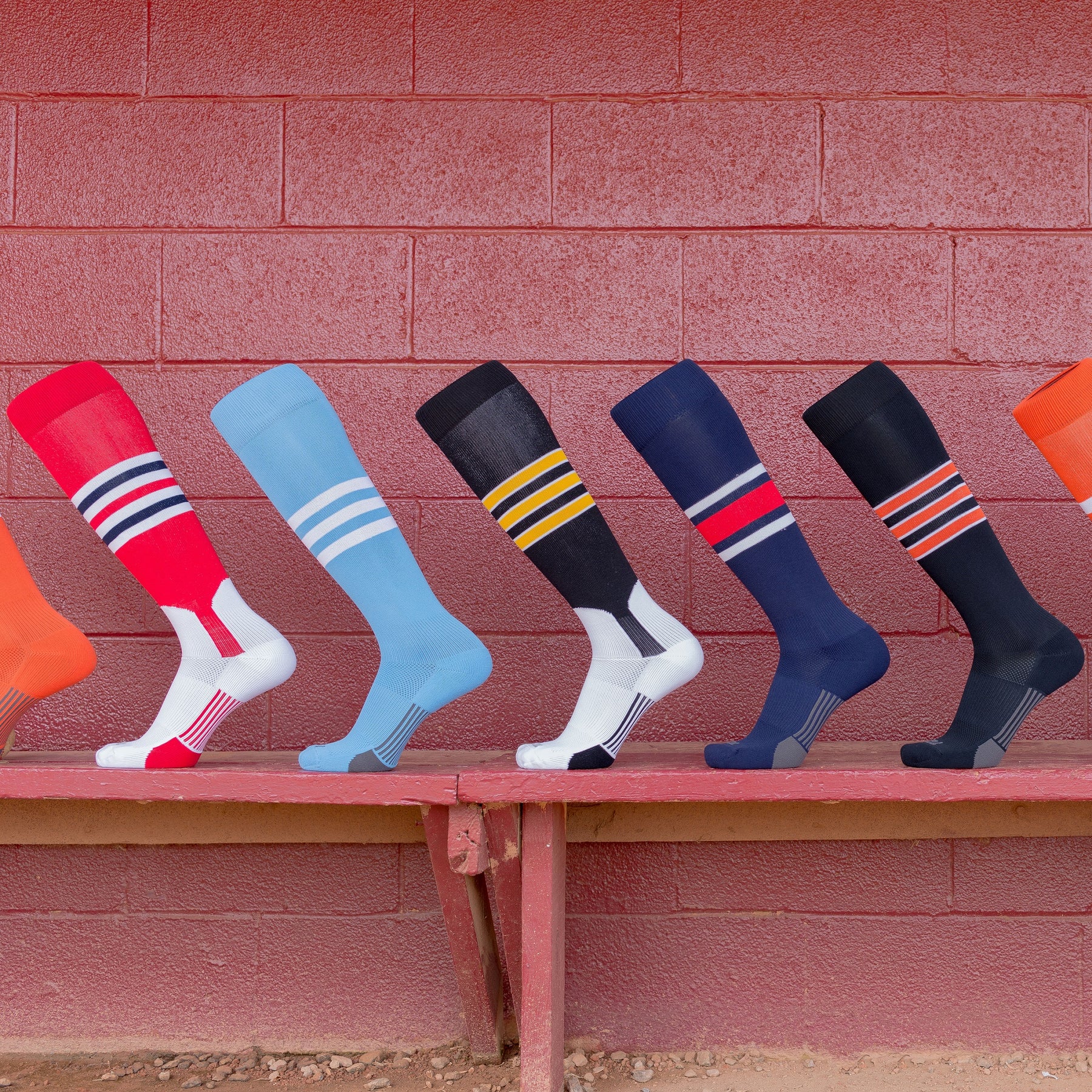 2023 Best Baseball and Softball Socks
The Best Softball and Baseball Socks For Style and Comfort
From youth baseball, fastpitch softball, adult softball leagues to MLB stars, baseball socks and softball socks are typically missed as an important part of the uniform. The combination of comfort and style in the right pair of socks can give you confidence on the field. It's crucial to buy the perfect pair of socks for your playing style on the field if you want to be at your best. Which features are the most important? Keeping track of material, breathability, color, and comfort can become a burden. TCK is here to give you a few pointers before you or someone you are buying takes the field. We are sure you will be able to find the right long sports socks without breaking the bank. To help you knock this purchase out of the park, have a look at the following list of our favorite pairs of TCK baseball socks in 2023.
Finding The Ultimate Baseball and Softball Socks - A Buyer's Guide
Softball and baseball players can wear different socks styles for practice and games. Their selection can depend on personal preference and comfort about how the player likes to wear the socks. There are multiple different baseball and softball sock styles, including long, over the knee, solid colors, striped socks and stirrups. Style and fit are usually left up to the players who wear them in-game. Some coaches and teams prefer the entire team to wear the same socks. The colors of the socks that the player should wear will most likely be decided by the coach and team. Make sure to check with the coach or team before deciding which color. Softball and baseball socks can be blended with different materials such as polypropylene, nylon, polyester, spandex, and others. Are you confused about buying the right socks? Read through this nifty buyer's guide to find the best socks for baseball or softball.
What Are The Different Types of Socks? 
Over The Calf Baseball Socks
Most baseball and softball socks will go over the calf of the player. Over the calf socks can provide different looks depending on how the player likes to wear their baseball pants. Some players will opt for a clean look with baseball or softball pants all the way down to the ankles. If you are sporting the full-length pants look on the field, you will still need an over the calf sock that gives you an extra layer of protection when sliding into the bases.
Going with an over the calf sock gives you the most options to choose from. There are many different styles including solid or striped, colors, & features to look for. Some of TCK's most popular socks are the Dugout series. Dugout socks come with stripes on the socks. The striped socks make for a really cool look on the field.
If you are ordering for a team and unable to find the right colors for your team or uniform, TCK also offers custom colors and designs. Click here to check out the custom page. The process is super easy and someone from our team will help ensure you get the style and look you and the team are looking for.    
Over The Knee High Baseball Socks
Knee high baseball socks are gaining more popularity. As short shorts have made a comeback in recent years there are some ball players that have transferred that style onto the playing baseball field. Players that have gone for the short baseball pants look need a sock that can provide protection while sliding. To pull this look off TCK has created the Pro Plus Socks.
Long, over the knee socks are crucial if you want to pull this look off. Not only will the socks provide protection while playing but pairing with the right color will make you look sharp on the field. Look great, feel great, play great.
Softball and Baseball Stirrups
The traditional stirrup look is a fun and classic look. Baseball stirrup socks go under the heel and midfoot area. Be sure to wear a long white sock under the stirrup for extra protection. Sanitary socks are sold separately. Any white sock will pair well with stirrups including the Prosport or Champion socks. 

Many players at high levels are bringing #StirrupSwag back to the glory days.
If you enjoy the stirrup look but are unsure about wearing actual baseball stirrups, also check out our baseball stirrup socks! A great alternative for you is to wear baseball socks with stripes.
Which Features Are Most Important?
Comfort

Players need supreme comfort up the leg portion when playing baseball, softball football, or any sport. Some players prefer tube socks, like the Prosport. If the ball player prefers more performance and a snug foot around the foot we recommend either the dugout series or the Champion. Arch compression can help reduce the sock sliding around in their cleats which would reduce the chance of blisters. If baseball shoes are tight fitting, breathable mesh in the foot is also important. The mesh allows air to flow through the foot and toes, keeping the feet feeling cool on those hot summer days.
Something else to keep in mind with comfort is if the socks tend to fall down. TCK baseball and softball socks feature a double welt top. Double welts prevent the socks from sliding down and making the player reach down to pull the socks back up. Also, look for socks that are made with comfortable, high-quality materials that can help control moisture.
Durability
Players, kids, adults can be rough on their socks. Taking cleats off and walking to the car in socks is not recommended. Socks will wear out quickly if anyone wears them on the concrete without shoes on. But, the best softball and baseball socks stay durable over time. Look for socks with padded foot beds, arch compression or Y heel for best durability.
Antibacterial properties
Since baseball and softball players can wear socks for hours on end, socks can get stinky and smelly. We recommend buying socks that are made from material that helps with moisture-wicking and odor control. You don't want to have to deal with deal with sweaty sock odors after just minutes of play.
Uniform requirements/colors
Softball and baseball teams that all match their socks not only can look great but also create chemistry. A team that has great chemistry can lead to success on the field. Baseball socks can play a significant role in defining your team. Your baseball team will often make certain colors (and even styles) of socks part of the uniform requirement. You can imagine how a team's look would appear if all players ran onto the field while wearing socks of all different colors. Check with the coach or team parent about which colors or styles would be best to wear!
Care instructions and maintenance 
Don't overthink this. Socks should be washed after every game. For best results and longevity, turn the socks inside out, tumble dry on low heat. Do not use bleach or fabric softeners.
2023 Baseball and Softball Socks For Players 
Best Overall - Prosport
Ideal weight
Comfortable, quality construction
Double welt top keeps socks from sliding down
20+ colors and 5 size options
The Prosport is the gold standard for the classic athletic tube sock. This iconic sock has been produced for over a decade and has graced the feet of many top athletes. Hitting just below the knee, this sock is ideal for baseball, softball, football, field hockey and more! We get orders for all ages and sizes on the Prosport, from the pros to youth baseball and softball. Because we offer youth sizing, it truly is great a great sock for those searching for: baseball socks toddler, youth baseball socks. Available in over 20 team colors and 5 precise sizes.
Best Design - Dugout Series
Foot arch and ankle compression to reduce fatigue

Double welt top keeps socks from sliding down

Made in the USA
TCK Sports Dugout Series Baseball Softball Socks is a performance baseball sock with classic stripes. High performance, moisture wicking, blister control, arch and ankle compression, double welt top to keep sock secure, smooth toe seam, season long durability, ergonomic cushioning, athletic over the calf socks for all baseball, softball, fastpitch, team sports and elite athletes. Made in USA. The Dugout series is a popular option for girls softball, boys baseball socks or baseball socks men's.
Best Long Sports Socks - Pro Plus Over the Knee Socks
This is the Prosport sock but longer
Can wear with shorter baseball or softball pants
Ideal weight
Comfortable, quality construction
Double welt top keeps socks from sliding down
Lots of colors options and 4 sizes to choose from
The High, Over the Knee sports sock is design to provide full length coverage all the way above the knee. For Baseball/Softball players wearing knickers, and football players with shorter pants. The Prosport is the gold standard for the classic athletic tube sock.
Best Stirrups - Striped Stirrups
Durable construction

Double welt top keeps stirrups from sliding down

Classic, fun style for the field

Made in the USA
TCK stirrups are premium quality and made in USA. Stirrups are perfect for Little League, ASA, Travel Ball, Babe Ruth, High School, Collegiate and Professionals. Please note: sanitary socks under stirrup socks sold separately.
Best Value - Sock/Belt Combo
Belt is made of elastic. Stretches easily and comfortable on the field.

Matching athletic tube socks

Socks feature a cushioned footbed
TCK Baseball or Softball Sock/Belt combo includes 1 pair of solid colored athletic over the calf socks, and a perfectly coordinating elastic belt that is that can be easily adjusted to accommodate most waistlines.
Now, all you have to do is complete your purchase. If you search: baseball socks near me or where to buy baseball socks, you may get directed to your nearest sporting goods store. However, stores these days don't typically carry a full assortment. Color and size options will be limited. Make it easy, buy direct from us. We offer free shipping, always! We ship quickly and orders +$35 get automatically upgraded to free USPS priority shipping (2-3 business days).
We've got even more socks to choose from and for just about every athlete. Make sure to take a look at them all. We love to help, so just give us a shout!